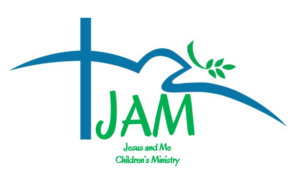 New for this year, Salem replaces the traditional Sunday morning Sunday school with a new and exciting children's ministry called Sunday JAM. (For "Jesus and Me.") Each Sunday morning during the school year students from 3 years old through 6th grade gather in church for a shared introduction and song time, then separate into groups by age to explore God's timeless truths. Using videos, stories, and good old reading in Scripture, children learn from God's Word and see how God's love and teaching applies to them.
Children learn in small groups divided by age. We begin the year with groups divided between PreK-1st, 2nd-3rd grade, and 4th-6th grade, though group ages are flexible. Salem members teach with one of the pastors opening each day and highlighting the main idea of the lesson.
Sunday JAM schedule
9:15 a.m. Meet in the sanctuary for opening word and song
9:25 Students go to rooms and study in small groups with their teachers
10:00 Students go to the gymnasium for crafts & activities
10:15 Dismissal from gymnasium
Sunday JAM is open to all children, regardless of church membership. Help us prepare enough materials and supplies by registering your child.